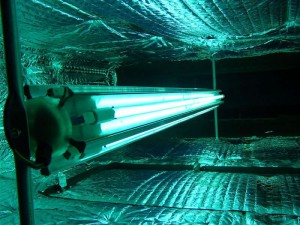 AIR: IF YOU ARE LOOKING TO IMPROVE INDOOR AIR QUALITY. THIS PRODUCT CATEGORY CONSISTS OF UV AIR PURIFICATION SYSTEMS DESIGNED TO STERILIZE & DESTROY BIOLOGICAL & CHEMICAL CONTAMINANTS WHICH CIRCULATE THROUGHOUT THE BUILDING OR FACILITY.  
  .
………………………………………………………………………………………………………………………………………………………
.  

COIL: IF YOU ARE LOOKING TO PREVENT & DESTROY MOLD & OTHER MICROBIAL GROWTH ON THE COIL & SURROUNDING AREAS. BENEFITS INCLUDE REDUCED MAINTENANCE COST BY MAINTAINING A CLEAN & EFFICIENT COIL. MAXIMIZING ENERGY EFFICIENCY BY MAINTAINING IDEAL HEAT TRANSFER ACROSS THE COIL. PREVENT "BLOW OFF" OF MOLD AND OTHER MICROBIAL GROWTH INTO THE HVAC SYSTEM TRANSMITTING CONTAMINANTS AND ODORS THROUGHOUT THE BUILDINGS ENVELOPE.
View Sanuvox Power Point Presentation on UV air purification and cleaning-