1.  AirTracks "Hepa CN-Lok" Filter Housing is used for "Side Access" applications for high efficiency (Hepa style) filters.2.  The "Crank-Lok system" assures high efficiency seal by compressing the gasketed filter against the Hepa grid.3.  The Hepa filters are slid in from either side and with a couple of turns the crank mechanism creates a tight seal.

4.  Knurl-Knob bolt-down door utilizes removable hinges to ensure easy access and a tight "High Efficiency" seal.

5.  16 gauge galvanized construction.

6.  Metal-to-metal components sealed with silicone sealant.

7.  Hepa grid constructed of .080 aluminum tubing.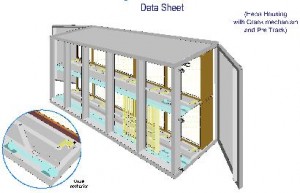 1.  AirTracks "Hepa CP-Lok" Filter Housing is used for "Side Access" applications for high efficiency (Hepa style) filters and a 2″ or 4″ pre-filter.2.  The "Crank-Lok system" assures high efficiency seal by compressing the gasketed filter against the Hepa grid.3.  The Hepa filters are slid in from one side and with a couple of turns the crank mechanism creates a tight seal.

4.  Knurl-Knob bolt-down door utilizes removable hinges to ensure easy access and a tight "High Efficiency" seal.

5.  16 gauge galvanized construction.

6.  Metal-to-metal components sealed with silicone sealant.

7.  Hepa grid constructed of .080 aluminum tubing.

8.  Extruded Aluminum track for pre-filters with woven nylon seals