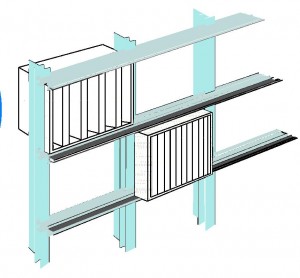 1.  AirTracks "LuMaFrame" (Aluminum modular frame) is used for front or rear access applications for any size pre-filters and 1″ (nominal) headered final filters.2.The specialized track compresses the full face of the final filter against a specialized frame that ensures a tight full face seal.3.  No clips or fasteners required.  Any thickness pre-filter is easily installed and secured by finned gasketing.

4.  Sizes are available up to 12′ high and 19′ wide.  Larger sizes are available by combining various size modules.

5.  Designed for downstream full face factory gasketed final filters.

6.  Framing members are constructed of type 6063 mill finish aluminum with a .125 inch minimum thickness.  (Exception:  Pre-filter flanges are .063 inches minimum thickness)

7.  The "Bolt-together" members are factory cut to length, pre-drilled and fastened with plated steel bolts and lock nuts.

8.  Special coatings resistant to hydrogen sulfide, salts, ammonia, etc., available upon request.

9.  All metal-to-metal connections are silicon sealed.