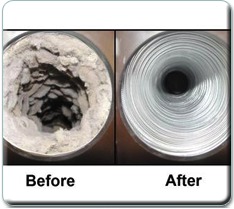 Rhodes Performance Maintenance Pro Air Duct Cleaning provides a professional service that both increases efficiency and reduces running time of your air conditioning system, offering a cleaner and safer environment.
We clean and disinfect the register covers, washing to remove cooking oil film, nicotine film and other noxious dust collecting substances.
We deep clean the source of the air supply including (where applicable) the blower, coils, condensation pan and return air supply.
The air ducts are then brush vacuumed clean. The cleaning equipment removes the allergy and disease causing contaminants that continuously circulate throughout the duct system and the home.
Q: Do I really need my air ducts professionally cleaned?
A: You can't afford not to!
Duct cleaning performed by experienced RPM technicians can:
o Improve the indoor air quality of your home
o Lower utility costs by improving airflow
o Extend the life and improve the efficiency of your heating and air conditioning system
o Improve the health and well being of you and your family
Q: How often should I have the ductwork cleaned?
A: Typically every 3 to 5 years. However, this frequency depends on the individual circumstances.
Reasons to consider more frequent cleanings would include:
o Residents with allergies or asthma
o Smoker in the household
o Hair and dander from pets
Other reasons to clean your ducts might include:
o Water or smoke contamination to the home
o Renovations or remodeling
o Purchasing an existing home
o Occupancy of a newly constructed home (construction debris)
High Quality Air Duct Cleaning in Houston, Katy, Tomball, Cypress, Hockley, Waller, Brookshire, Sealy, Bellville, Brenham and Navasota.  In Houston we serve the Heights area, West I-10 Corridor, NorthWest 290 Corridor and 249 Corridor.
 
Rpm, LLC is a proud Gold Star member of the Southeast Texas BBB.  We are current members of the National Air Duct Cleaners Association (NADCA), and all of our work is performed by a NADCA certified Technician.  
Rpm, LLC is a state licensed HVAC contractor that is fully insured for your protection.  At Rpm, we perform random drug testing and screen our employees for your safety and peace of mind.
 
Rpm has over 25 years of experience in maintaining, repairing and improving Indoor Air Quality for commercial and residential HVAC systems, so we don't just clean your air conditioning systems we can troubleshoot and repair them as well.
We follow all of NADCA's requirements when performing any HVAC restoration work so you can rest assured that you are getting what you pay for – A CLEAN & HEALTHY SYSTEM!
Rpm, LLC is not a so-called blow and go duct cleaning company.  We have no hidden fees or unexpected costs. We believe our strong foundation of honesty, providing the highest quality work, best customer service, and exceeded expectations is not only essential, it is our responsibility. 
Our knowledge, compassion and understanding builds more than professional relationships, it builds friendships.
Rpm wants to make your life easier by becoming your one stop shop for providing the best Indoor Air Quality Services for your Home. 
Rpm guarantees all of our work and your satisfaction, or your money back.  Rpm will never recommend any service or product that is not needed or warranted.
Rpm offers the following Services and Products for your Residential HVAC system:
– Complete HVAC system Maintenance and Repair
– Certified HVAC system Inspection and Reporting Services 
– Air Duct Cleaning  & Dryer Vent Cleaning
– High Quality UV lighting Products and Installation for your Residential HVAC system
– Commercial Grade Filtration Products and Installation for your Residential HVAC system
– EPA approved Anti-microbial coatings for HVAC systems

Call Rpm Today for a free consultation and estimate! 979-865-9842