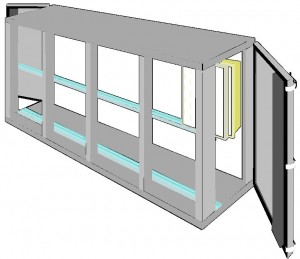 1.  AirTracks "Side-Lok 22″ Filter Housing is used for side access applications for 2″ pre-filter and headered final filters.  (22" depth)2.  The latch-down door compresses the filters together to ensure a tight seal.

3.  Designed for factory gasketed filters for side-to-side sealing.

4.  16 gauge galvanized construction.

5.  Extruded aluminum filter tracks with woven nylon pile seals provide a seal on downstream side of filter.

6.  Metal-to-metal components sealed with silicone sealant.

7.  The door uses aluminum hinges and quick acting snap down plated latch.

8.  Door perimeter sealed with closed cell neoprene gasket.